CEX.io the ultimate Fiat-to-Crypto Gateway
CEX.io is one of the oldest exchanges to hit the market and stands as the ultimate fiat-to-crypto gateway. Established in 2013 and primarily based in the U.K., it's been one of the first platforms to provide a fiat gateway and enable fiat-to-crypto transactions, for clients all over the world. It provides today a great and complete alternative to crypto enthusiasts and traders alike for the following services:
Buy and Sell Crypto with fiat
Instant deposit & withdrawal with Credit Card
Spot exchange fiat/crypto
Margin trading
Mobile solution with iOS/Android apps
… and neat new features to come
Buy and Sell Crypto with Fiat
CEX.io positions itself as the ultimate gateway for fiat-to-crypto transfers. As such, it offers a wide range of options when it comes to buy or sell crypto from fiat currencies:
Credit Cards:
Bank Transfer:
S.W.I.F.T.
ACH
Faster Payments
Sepa
Online Payments:
Skrill (f

ormerly Moneybookers)

QIWI
EPAY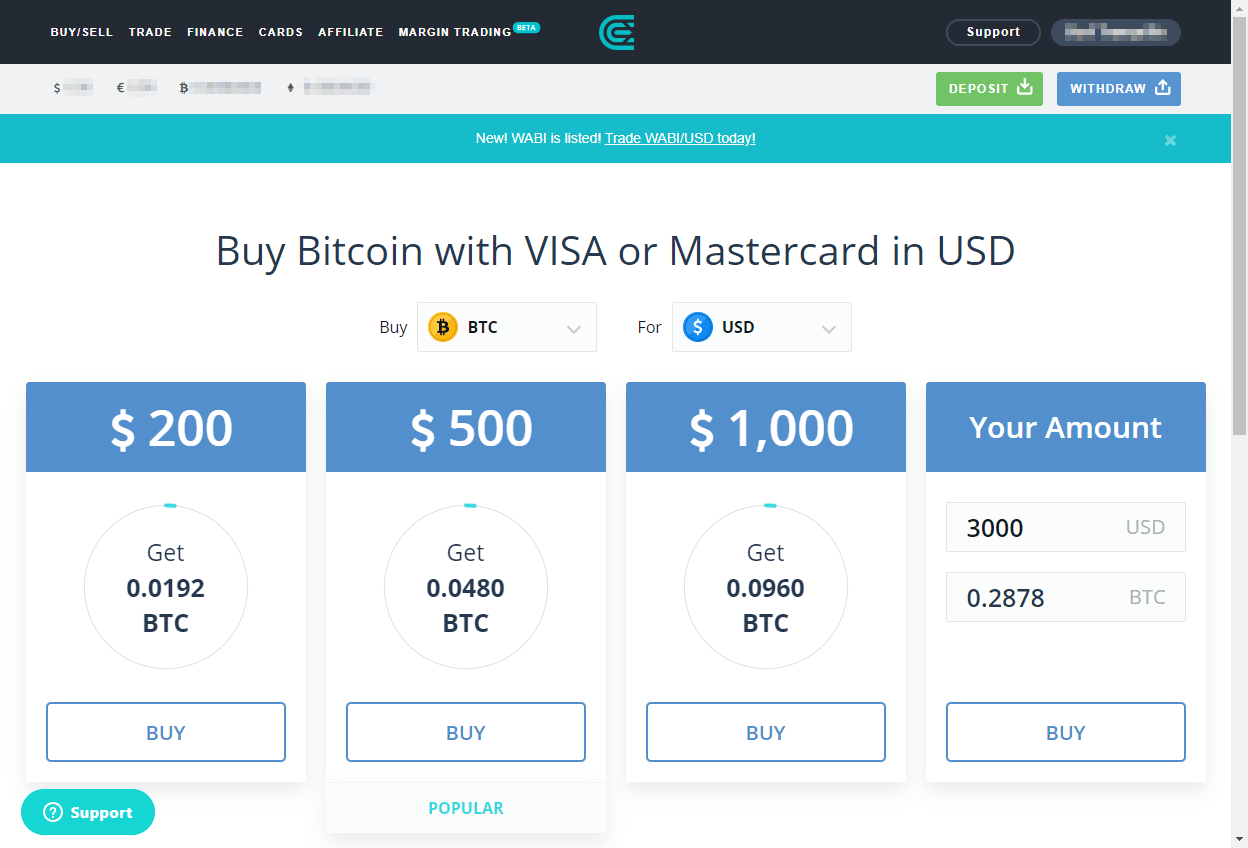 In addition to the many payment options, there are quite a few choices of fiat and crypto to select from. Fiat currencies accepted are USD, EUR, GBP, and RUB.
Cryptocurrencies available for purchase at the time of review (will significantly expend throughout the year): BTC, ETH, BCH, LTC, XRP, BAT, XTZ, MAPIC, WABI, and LINK.
Instant Deposit & Withdrawal with Credit Card
Need to move quickly some fiat currency to the exchange and seize an opportunity of a bullrun? Instant purchase of BTC using a credit card is the way to go. There are many options out there, and CEX.io also supports the option. But the other way around? Say you want to immediately top up your credit card and withdraw from your crypto assets?
Well, this is THE killer feature, instant withdrawal to credit card, Visa or MasterCard!!! In just a few click, and provided your credit card is already linked in your profile, you will be able to get access to your funds immediately after withdrawing from the exchange.
All in all, it's as easy as this:
Go to your wallet and click withdraw;

Input the amount you want to withdraw and select the card to credit;

Go through the 2FA confirmation to validate the transaction;

Voila, your funds are sent and available in your credit cards instantly!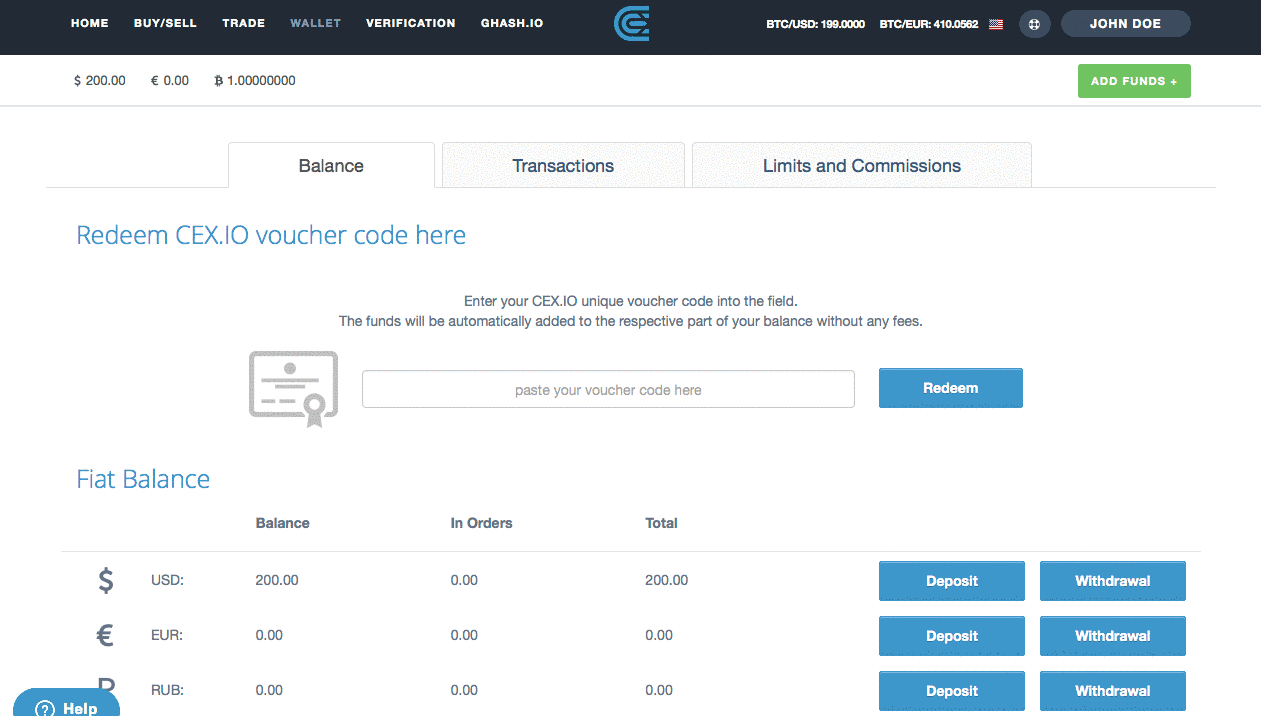 CEX.io prouds itself to be the only exchange that offers this feature while keeping it at a reasonable price.
As of now, instant withdrawals are supported for EUR, USD, and RUB.
Do note that as a major player, CEX.io complies with the PCI DSS standards (Payment Card Industry Data Security Standard), at the highest level of compliance: Level 1 for over 6 million transactions annually. Certificate can be found on their website at this address.
This is the main part of the site and is a spot exchange, where you are able to trade (buy and sell) any of the supported assets. Similarly to the other fiat gateways, it doesn't offer a very extensive list of cryptocurrencies, but gives very interesting pairs, from fiat USD, EUR, GBP, RUB and crypto BTC and USDT.
CEX.io supports at the time of writing the following trading pairs: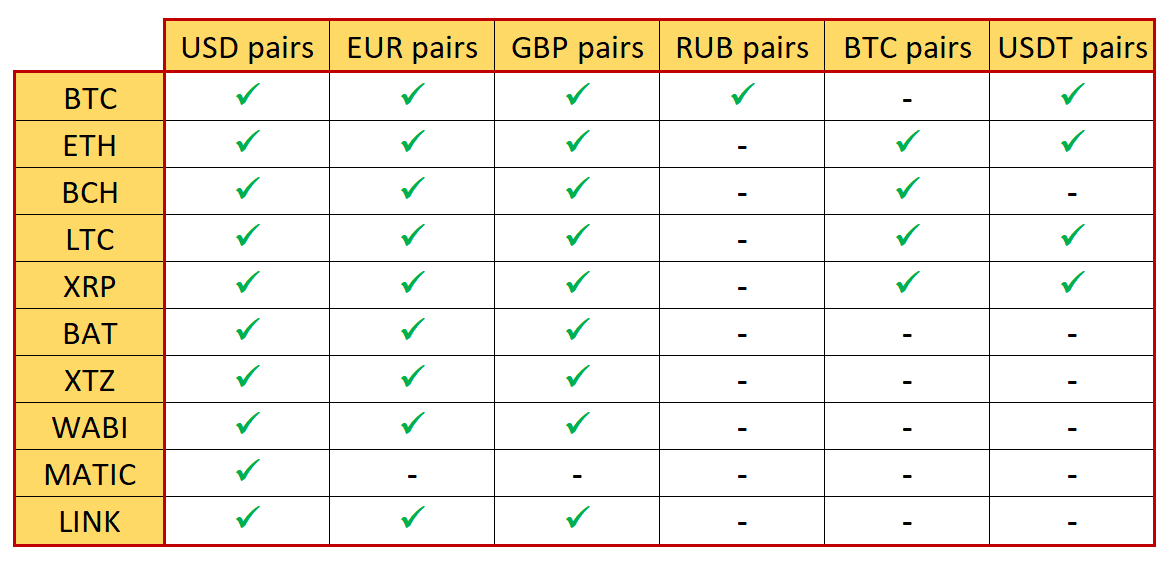 The exchange interface is very clean and gives the usual option for market and limit orders.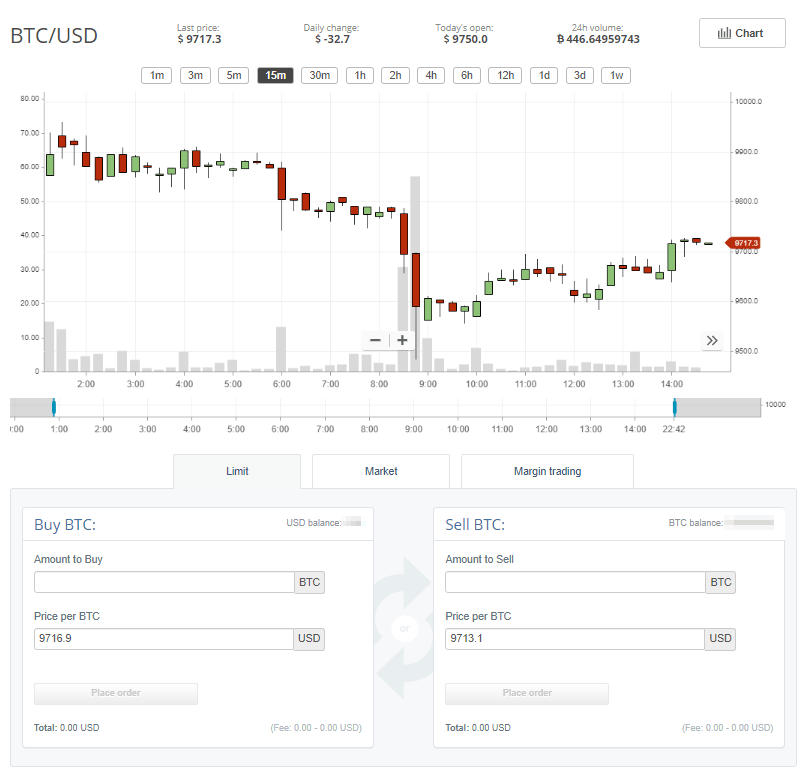 An extensive list of advanced tools is available by clicking the Chart button.
Whereas the standard CEX.io interface will suit the most basic needs, and will suffice for beginners, CEX.io also offers more advanced features in their CEX.io Broker interface. CEX.io broker is suitable for advanced traders as it enables margin trading. 
Deliberately, CEX.io chose to separate those advanced features not to confuse beginners. Meanwhile, CEX.io Broker is available directly from the main site and doesn't require further identification. It's available on the top ribbon menu, by clicking Margin Trading.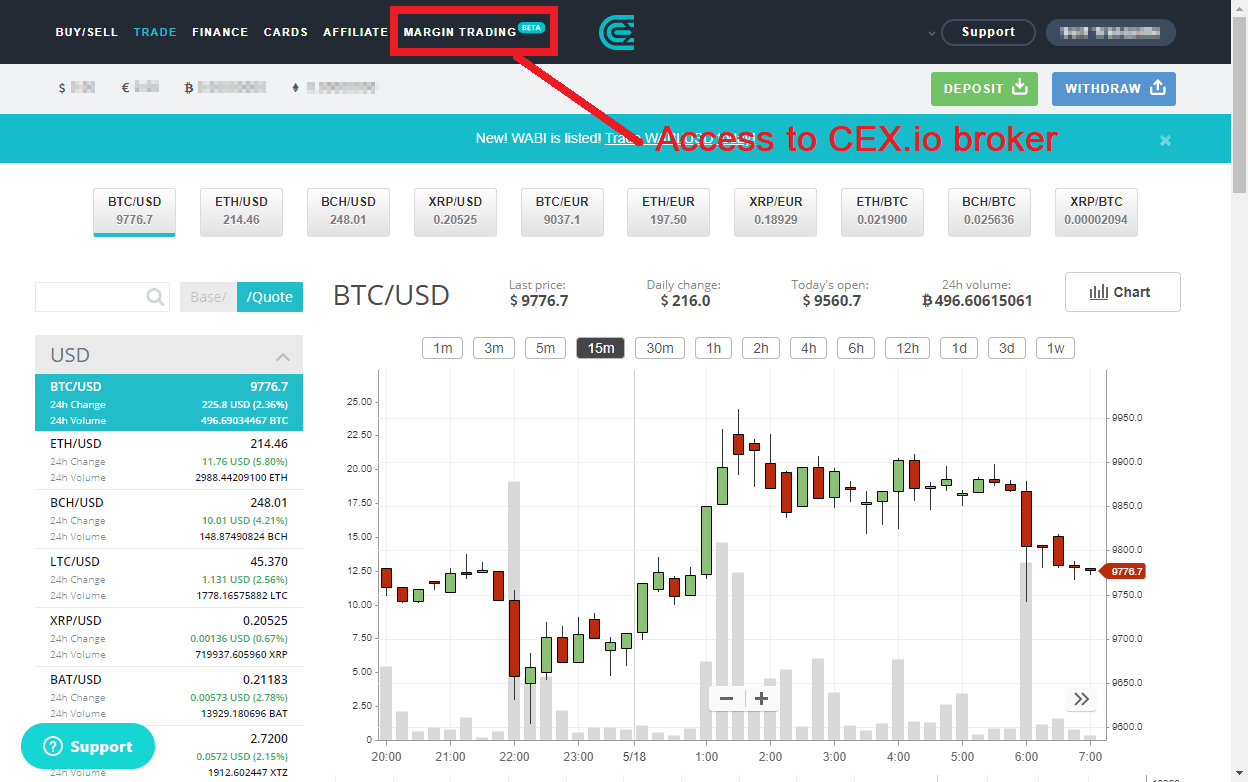 Margin trading in CEX.io broker is done using CFD, as for Contract For Differences. This is a financial tool that allows traders to trade in anticipation of the price movement of the asset they're trading. The advantage is that you don't need to own, buy or sell the asset; you'll only need to open or close a position.
Long position: trader anticipates that the price of the given asset will increase over time.
Short position: trader anticipates that the value of the given asset will decrease over time.
CEX.io Broker differs from other margin trading platforms in the security and flexibility it gives to its users:
it shares the same levels of security and customer support since it's backed from CEX.io, maintaining the highest standards in the industry
it enables users to maintain multiple trading accounts under one user account, giving the possibility to test different strategies
you can trade on a pair even though you deposited another currency for collateral (say you trade BTC/USDT but you deposited ETH on your trading account)
you can try and familiarize yourself with the tools and margin trading with a demo account
In a fast pacing world, and while dealing with such assets as cryptocurrencies, connectivity and mobility is a must. CEX.io knows about this and completes its suite with a mobile app to be in control of your porfolio wherever you are.
The app is available both for Android and iOS. It offers all the possibilities of the web version of CEX.io and ensures you can interact with your assets on-the-go, with a very clean and user friendly interface.
Note however that you will need to first register an account to the website, go to your profile page, and link your app to your main account.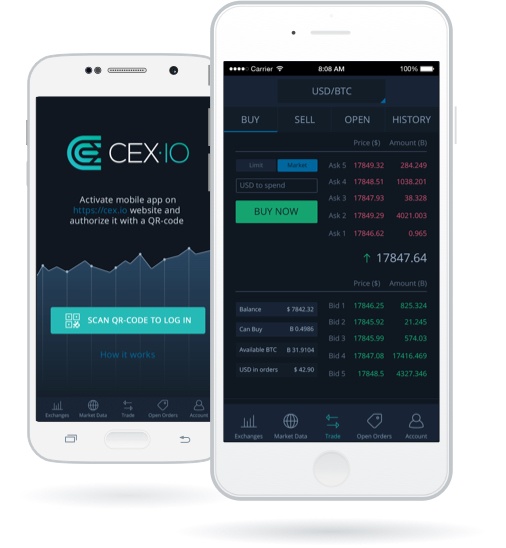 Further developments
CEX.io has a lot in store for the months to come, with the addition of new coins in particular and the staking of coins. Indeed, CEX.io will reward automatically holders of PoS (Proof of Stake) coins and sends the payouts every month. There will be no action required by the user, you just need to hold one of the following PoS coins available on the platform, namely: Cosmos, MetaHash, NEO, Ontology, TEZOS and TRON at first.
CEX.io provides a calculator to estimate your passive income generated with the staking of those coins here.
For further information and to keep track of what's in store, please do consult CEX.io's official blog here, or join their telegram there.